Eszett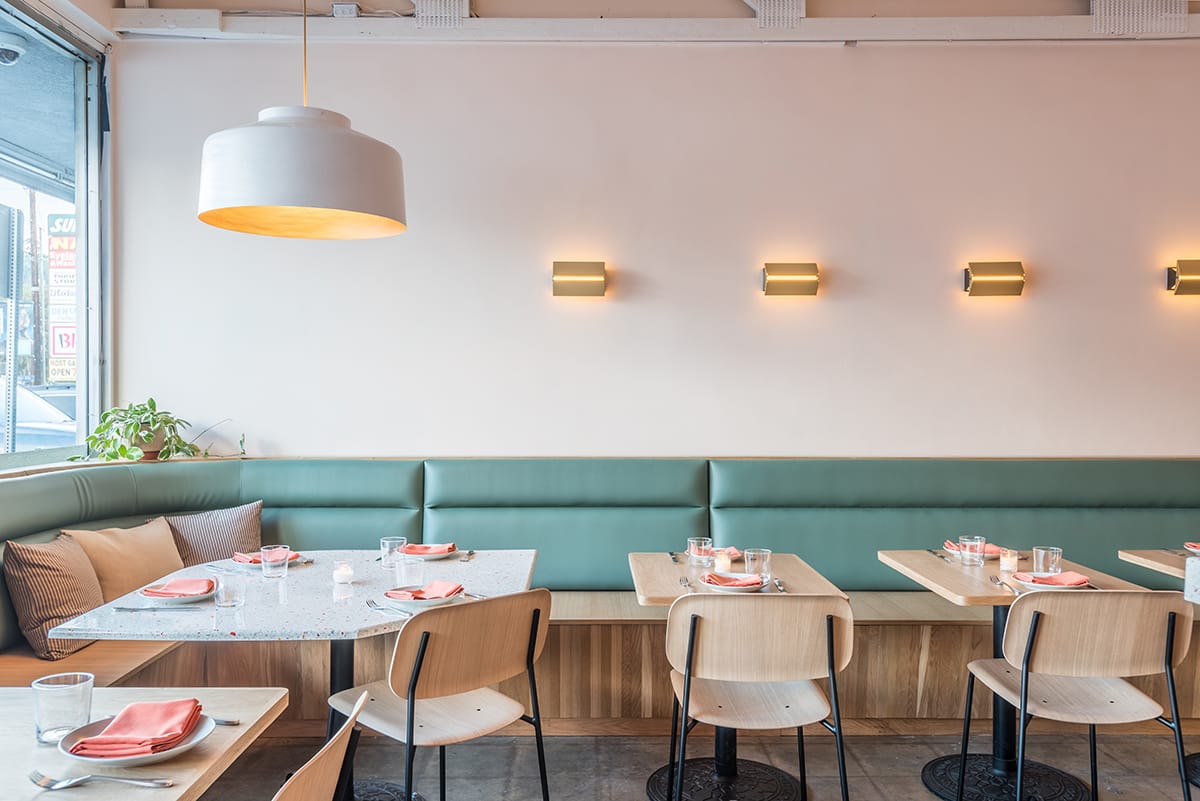 Eszett (now Ruby Fruit!)
We helped two Angelenos, Sabrina and Spencer Bezaire, bring their long incubated restaurant vision to life. As restaurant industry pros, Sabrina and Spencer planned to pair considered wines with a well crafted seasonal menu, and they'd long dreamed of a space that would look refined but feel like you were dining at their kitchen table. To achieve that, we established a material palate of white oak, terrazzo and terracotta paint, colors and textures inspired by Southern California tones and the reductive simplicity of Louis Kahn's Salk Institute. We worked with the talented team from Eagle Rock Restoration on the build-out, removing drop ceilings to expose wood beams and making use of extensive built-ins to give diners the feeling of being right at home.
Today, the space is run by one-time Eszett manager Mara Herbkersman and Emily Bielagus as Ruby Fruit, a strip mall restaurant and wine bar serving the sapphically inclined, and the first permanent lesbian bar to have opened in LA since 2017.
A standing bar anchors the space and serves a central gathering place that welcomes guests inside while they're waiting for their table.
Inspired by the teak walls at the Salk Institute, we repeated a rhythm and texture throughout the space by using white oak flooring arranged in a quilted pattern on the vertical surfaces of the banquets and bar.
Opal Beam Pendants mirror in plan the L-shaped bar and cast a comforting ambient light throughout the space. A terrazzo bartop brings movement and color to the space while walls painted in terracotta hues reference L.A.'s warm, dusty quality of light.
A white and brass Grain Drum anchors the corner terrazzo table, while brass Ada sconces provide a wall washing light above the built-in banquet.